NEWS COVID-19 testing now available at all Legacy Community Health Clinics
Published on 31 March 2020
Legacy Community Health clinics now all have the capability for COVID-19 testing for those who meet the current criteria. Based on CDC guidelines, that includes anyone with a chronic illness or underlying condition that results in a suppressed immune system who is also exhibiting symptoms of COVID-19. Legacy also continues to offer adult and pediatric primary care and sick visits, HIV/AIDS care, OB/GYN and maternity, vaccination, immunization, free HIV and pregnancy testing, and telehealth visits for pediatrics, behavioral health and some adult primary care services.
"The safety of our staff and patients is the utmost priority, so we have changed processes and operations to ensure those who are well are protected as much as possible from those who are sick," says Dr. Vian Nguyen, chief medical officer for Legacy Community Health.
Underlying conditions or those who are immunocompromised can include pregnancy, diabetes, heart disease, cancer or a transplant recipient.
Currently, locations in Houston open for testing (and other health services) include: Legacy Bissonnet, 12667 Bissonnet,; Legacy Fifth Ward, 3811 Lyons Ave; Legacy Mapleridge, 6550 Mapleridge Street; Legacy Montrose, 1415 California; Legacy Northline, 5598-A1 North Freeway; Legacy San Jacinto, 4301 Garth Suite 400, Baytown; Legacy Santa Clara (East End), 5616 Lawndale; Legacy Sharpstown, 6677 Rookin; and Legacy Southwest, 6441 High Star.
It is not necessary to call ahead of coming in to any of the clinics to be screened for COVID-19. Locations and their hours of operation may change, but are always updated at www.legacycommunityhealth.org. Patients can also call 832-548-5000 with questions or to make an appointment.
New patients who come to our clinics to be tested will go through the new patient process, including going through Legacy's Eligibility Department for those who are under- or uninsured. If an appointment has not been made, walk-in appointments can be accommodated depending on capacity or an appointment can be made within the next 24 hours.
NOTE: Test results are currently expected in 10-14+ days, according to Legacy's third-party lab vendor.
Legacy accepts most HMOs/PPOs, Medicaid and CHIP. Legacy also utilizes a sliding scale fee to lower the cost of services for uninsured patients.
NEWS Rice researchers create interactive map of COVID cases in Texas
Published on 31 March 2020
A team of researchers in the Center for Research Computing's Special Studies Lab at Rice University has created an interactive map showing all cases of COVID-19 across Texas utilizing public health data. The map is now online at coronavirusintexas.org.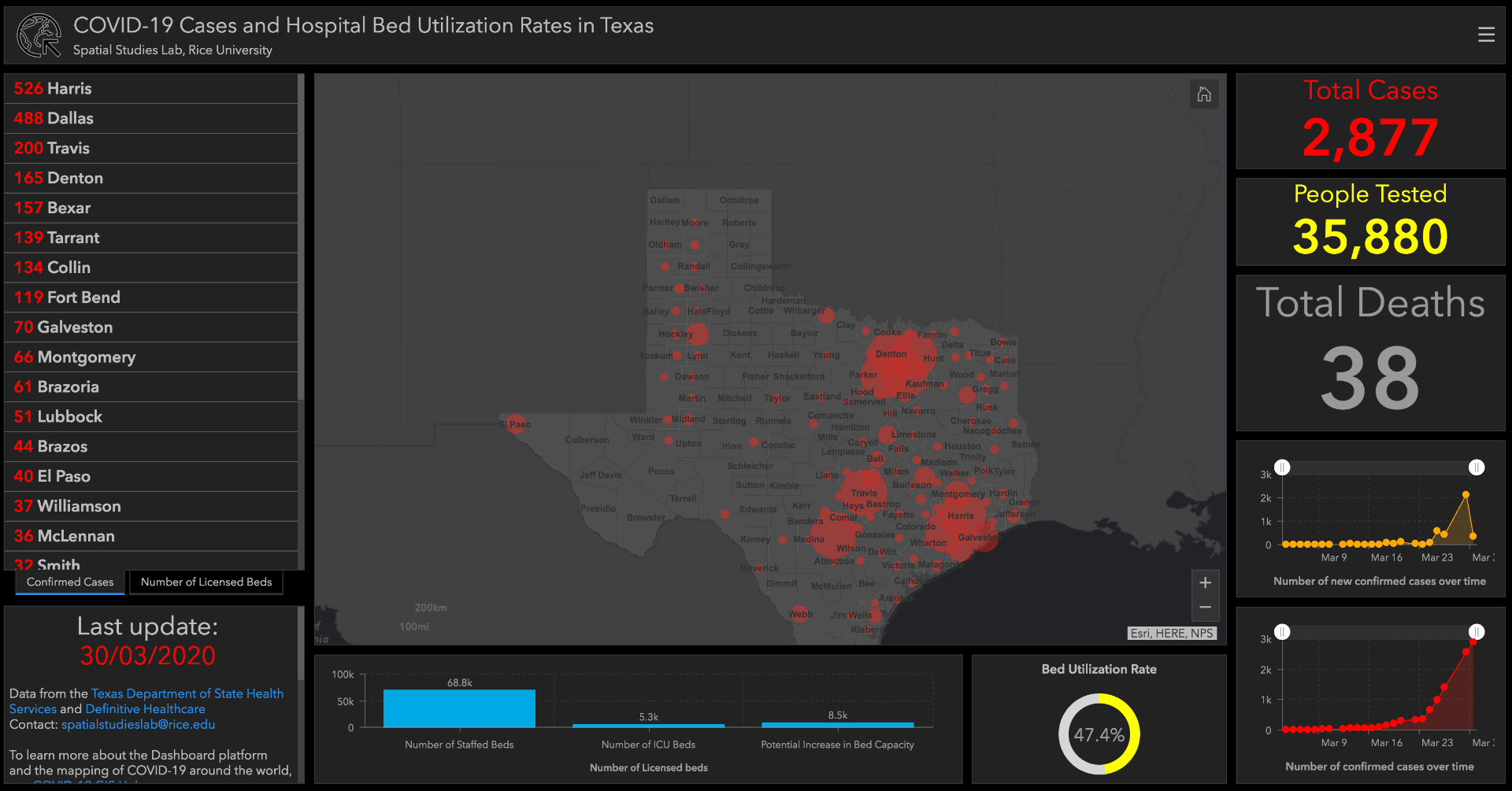 The dashboard includes cases by county as well as the number of people tested across the state, current hospital bed utilization rate and the numbers of staffed beds and intensive care beds in Texas hospitals. It updates automatically on a daily basis.
Led by Farès el-Dahdah, director of Rice's Humanities Research Center, the team of geographic information system (GIS) specialists also created interactive maps of COVID-19 cases for Brazil and Lebanon. The dashboard of Brazilian cases quickly went viral in that country.
The dashboards were created using open source code made available by ESRI, a GIS software company, and employ public health data. The interactive map of Texas COVID-19 uses data from the Texas Department of State Health services and definitive Healthcare.
"Now that the Texas Division of Emergency Management released its own GIS hub, our dashboard will move away from duplicating information in order to correlate other numbers such as those of available beds and the potential for increasing the number of beds in relation to the location of available COVID providers," el-Dahdah said.
"We're now adding another layer, which is the number of available nurses," el-Dahdah said. "Because if this explodes, as a doctor friend recently told me, we could be running out of nurses before running out of beds."
El-Dahdah and the team of CRC researchers, Bruno de Castro Sousa, Uilvim Franco and Ualas Rohrer, are available for interview via Zoom or Skype.
NEWS Crafting a Legacy Luncheon set for October 14
Published on 27 March 2020
Due to the spread of COVID-19 and for the safety of valued friends and patrons, Houston Center for Contemporary Craft's 11th Annual Crafting a Legacy Luncheon has been rescheduled for the fall and will take place on Wednesday, October 14.

This year's luncheon honors Phyllis Childress, a creative force and extraordinary volunteer, who has served as board president twice, led major fundraising efforts, and advocated for the nonprofit arts center in every imaginable way over the last 15 years. The program will include lively remarks by Phyllis' best PALS (Pinkie Searls, Anne Lamkin Kinder, Lynn Baird, and Susan Padon), and guests will have the opportunity to bid on fine craft made by celebrated artists in the silent auction and purchase stunning centerpiece artworks.
NEWS Texans warned to guard for phone scammers
Published on 27 March 2020
People in Texas are being warned to be extra vigilant as scam callers are likely to ramp up their activity over the next few weeks to take advantage of increasing amounts of people being at home due to the current Coronavirus outbreak.
CPR Call Blocker, makers of the US's best-selling call blocking device, is predicting that scammers and fraudsters will be ready to strike and take advantage of the situation as more states go into lockdown, forcing people to stay at home, and is warning people in Texas to be on their guard for a rise in bogus calls.
In a bid to beat the scammers who are likely to take advantage of this extraordinary situation, CPR Call Blocker has compiled the top five active scams that people in Texas should watch out for over the next few weeks as the Coronavirus situation unfolds:

Fake test kits scam – someone may call claiming to offer free Coronavirus testing kits and will ask you for your personal information and health insurance details. A common version of this scam targets diabetic individuals that are higher risk, where a scam caller will offer both a free Coronavirus test kit and a free diabetic monitor.
FDIC scam – scam-callers posing as employees from the Federal Deposit Insurance Corporation will ask you for sensitive information, such as your social security number and bank account information, over the phone as a precondition to receive federal money. Remember the FDIC would never make unsolicited phone calls asking for personal information and money, and especially would not put pressure on you or threaten you.
Charity scam – you may get a call from someone claiming to be from a charitable organisation which is collecting donations for individuals, groups or areas affected by Coronavirus. The caller will ask you to send cash donations in the mail, by wire transfer or by gift card.
Healthcare provider scam – scam-callers pretending to work for a healthcare provider will tell you that a relative or friend has been treated for Coronavirus, and then demand immediate payment for treatment before threatening legal action if you don't pay. Healthcare providers would not contact you this way.
Student loan scams – you receive a call to tell you that new measures due to the Coronavirus outbreak will have an effect on your student loan, and that you need to ring a different phone number to find out how the new measures will impact your future payment obligations. If you ring this number, a scammer may ask you for personal information like your social security number and credit card details.
Davies said: "As more and more restrictions are put into place in the U.S., we predict scammers are going to take advantage of more people being at home and, with many of those people also being distracted or stressed about the Coronavirus situation, this could be a recipe for disaster. When we're feeling vulnerable or distracted, it can be too easy to say "yes" to something without checking first whether it's genuine.
"We're warning people in Texas to bear this in mind and we would always strongly recommend never giving your bank details or paying for something over the phone that you're unsure of. Especially if the call you receive is the first time you have heard of any payment that needs to be made."
If you want to stop receiving scam and nuisance calls, follow CPR Call Blocker's quick three-step guide to stopping unwanted calls:
Register with the National Do Not Call Registry – visit DoNotCall.gov.

Don't consent to being contacted – get your phone number taken off directories and look out for tick boxed on all marketing correspondence to see if ticking or unticking them will prevent your details being passed on to third parties.

Consider getting a call blocker.
If you think you may be receiving scam calls, here are a few ways to protect yourself:
Don't reveal personal details. Never give out personal or financial information such as your bank account details or PIN – even if the caller claims to be from your bank.
Hang up. If you feel harassed or intimidated, end the call. You have the right not to feel pressurised.
Ring the organization. If you're unsure whether the caller is genuine, you can always ring the company they claim to be from. Make sure you find the number yourself and don't use one provided by the caller.

Don't be rushed. Scammers will try to rush you into providing personal details. They may say they have a time-limited offer or claim your bank account is at risk if you don't give them the information they need right away.
Davies continued: "If you suspect you may have compromised your bank account, contact your bank or card provider as soon as possible. It is also advisable to check your bank and card statements regularly for unauthorised charges as a matter of course."